Left Luggage Roma Termini
If you are arriving in Rome before your accommodation is available, or have some time in Rome for the day after you check out of your accommodation, what are your options for luggage storage?
TAKE ADVANTAGE OF OUR LEFT LUGGAGE SERVICE FOR FREE!
Bags can be left here before check-in or after check-out with no extra charges!
SKIP THE QUEUE!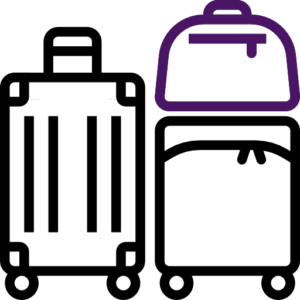 Luggage storage (Deposito Bagagli) is available at the lower level of the Termini train station, so if you have to check out of your accommodation and are taking the train (or going to the airport from the train station) later that day, this may be an option but it's easy to find a very long queue and then is a pay service. It is open 6:00 am to 11:00 pm, rates are 6 euros per bag for up to 5 hours, 0.90 euros extra per hour for hours 6-12, and 0.40 euros per hour after that. Website is http://www.romatermini.com/en/service…
There is also luggage storage at Leonard da Vinci (Fiumicino) airport. The luggage deposit counter is located in Terminal 3, International Arrivals, and is open every day from 6:30 am to 11:30 pm. As of early 2015, charge is 6 euros for up to 24 hours. Website is http://www.adr.it/web/aeroporti-di-ro…
We even offer a LOW COST  LONG TERM LUGGAGE STORAGE  for our clients who comes back at Babbo Bed & Breakfast at the end of their  italian tours before flying back home.
Please remember to ask for this special service when you send us your reservation form, so we'll reply as soon as possible with our best offer.
If you want a late checkout, ask us a special rate, subjected to availability, to KEEP YOUR ROOM LATER THAN 11 A.M till 6 P.M. We will offer you a discounted rate for the day so you can leave your luggage and also freshen up before your late flight or train.
We are very glad to lighten you up and let you enjoy Rome as long as possible!